World's No.1 TV brand 15 years running
* Samsung is ranked No.1 TV brand for 15 years.* Source – Omdia, Jan-2021. Ranking in terms of shipments. Results are not an endorsement of Samsung. Any reliance on these results is at the third-party's own risk.

TV when it's on. Art when it's off.
The Frame is designed to enhance your home whether you're watching TV or not. Watching drama or a dramatic artwork – The Frame looks just as striking on or off.
* Actual product may differ from imag
Add inspiration to your daily life
Art Mode
Instead of fading to black when the TV is off, turn The Frame into your very own gallery. Choose from over 1,200 beautiful art pieces on the Art Store* – from contemporary to classic styles. And with curated recommendations it's easy to find what you like. Or showcase precious moments by uploading your photos and creating a slideshow.
*Requires subscription fee of £3.99 per month.*Wires not shown.
Beautify your space
Frame Design
Because it looks like a real frame, The Frame enhances the surroundings, wherever it is. A striking sight—on or off.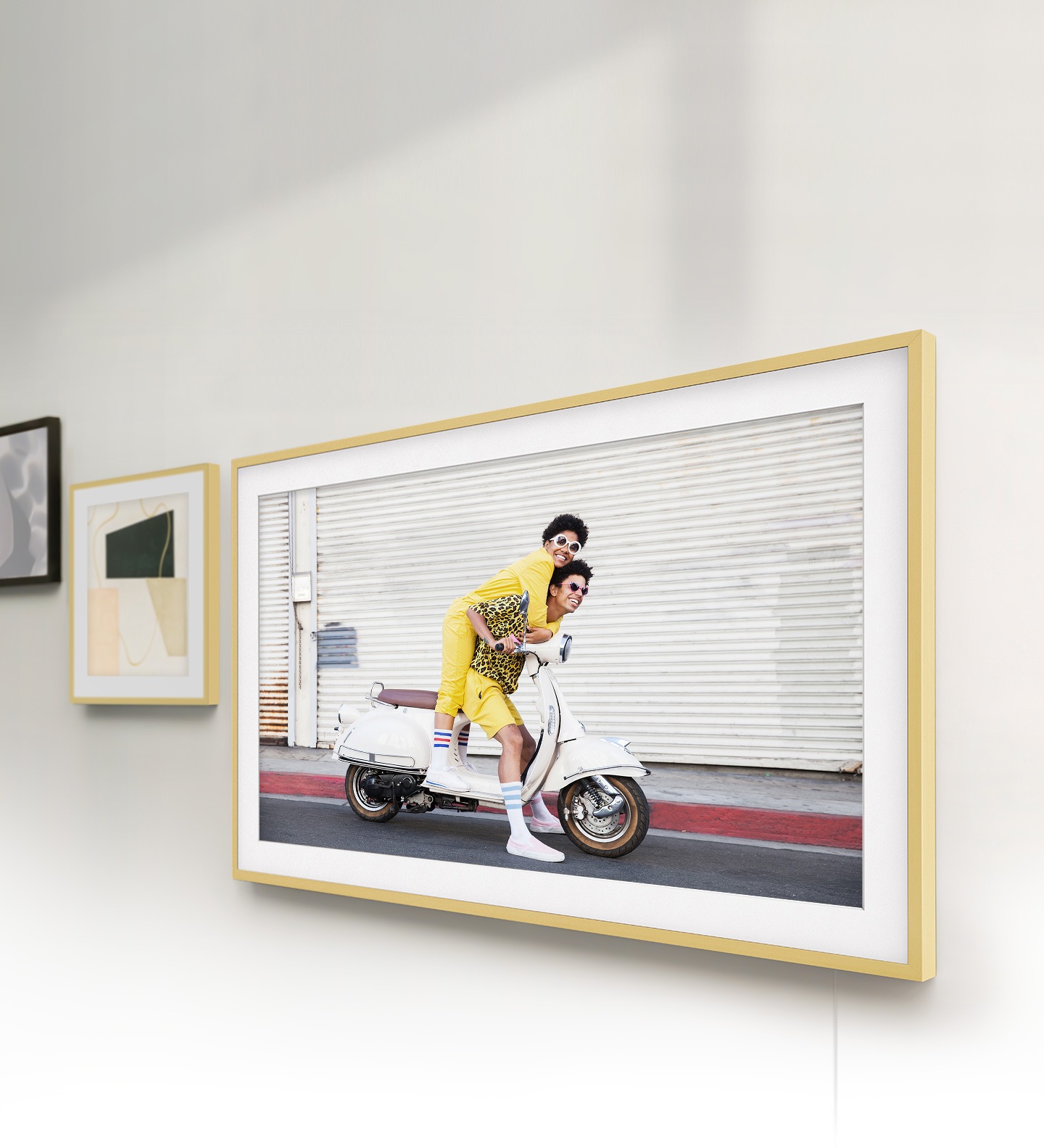 Customise to your style
Customisable Bezel
The choice is yours when it comes to The Frame. Pick the ideal customisable bezel* colour to work with your taste, home or simply the artwork on display. As they're magnetic, it's really easy to swap them whenever you fancy a change.
*Each customisable bezel is sold separately
Multi Position Stand
Simple Stand
Place The Frame in a traditional position to comfortably watch your favorite movies and TV shows or showcase stunning landscapes.
Lean-back
Adjust The Frame's stand legs to mimic a standing picture frame — perfect for viewing masterpieces in smaller spaces
Vertical
When you want to display beautiful portraits, simply switch up the position to view The Frame vertically.
*Content support in Vertical Mode may vary.
See more than a billion colours brought to life
Colour Volume 100%* by Quantum Dot
Whatever you're watching, it's all spectacular in stunning QLED quality with over a billion cinematic colours. Only Samsung QLED TVs are certified to provide 100% Colour Volume*. Watch movies, art and your memories come to life with QLED in Full HD resolution.
*Measured to DCI-P3 standard, certified by VDE.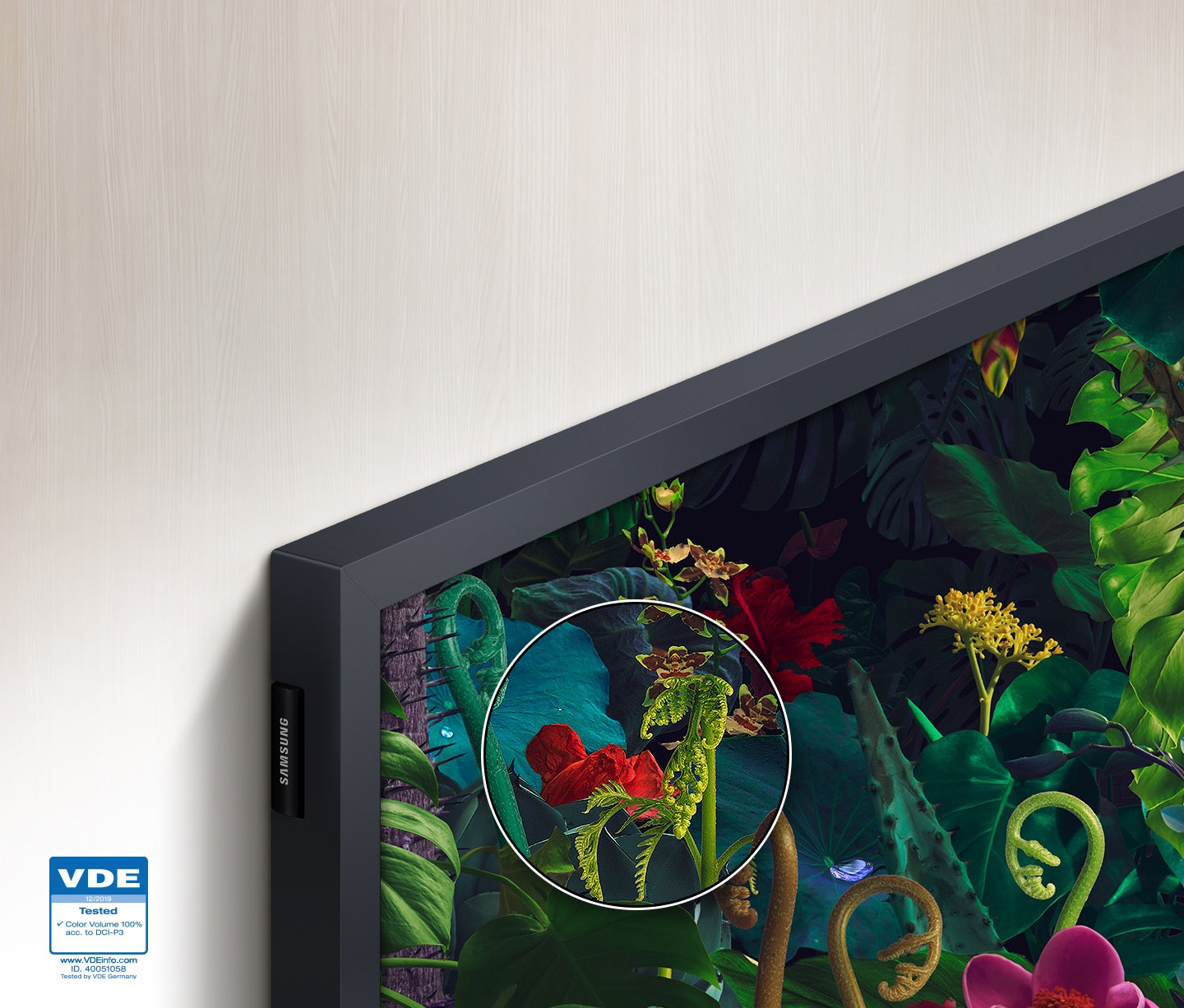 Hangs like a real frame
Mini One Connect Box + No Gap Wall-Mount
The No-Gap Wall Mount ensures The Frame hangs like a real picture with style and ease. You can even plug your multimedia devices* into the Mini One Connect Box, leaving you with a stylish, minimalistic living space to enjoy.
*2.5m-long/0.5cm-wide Grey Cable included. Separate tuner cable required.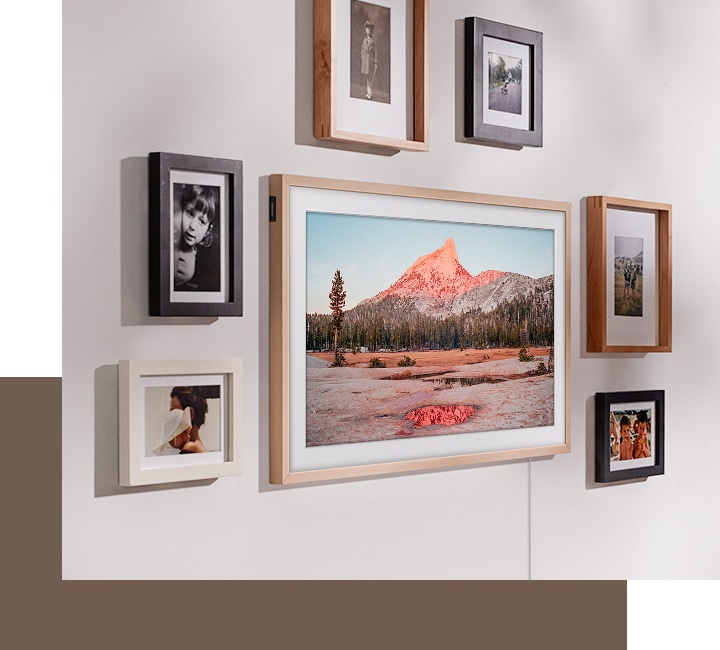 Bringing world-class galleries to you
Art Store
Bring beloved classics and contemporary masterpieces straight to your home with your free trial. Becoming a full member gives you unlimited access to art collections and photography, spanning the classics to the contemporary.
* Requires subscription fee of £3.99 per month.*Art pieces in the Art Store are subject to change without prior notice.
World's Largest Art Collection on TV
Try it for 3 months
Curated art just for you
Auto Curation
The Frame learns what you like and automatically recommends artworks you'd love to see on your wall. It'll also keep you up to date with new and popular artworks.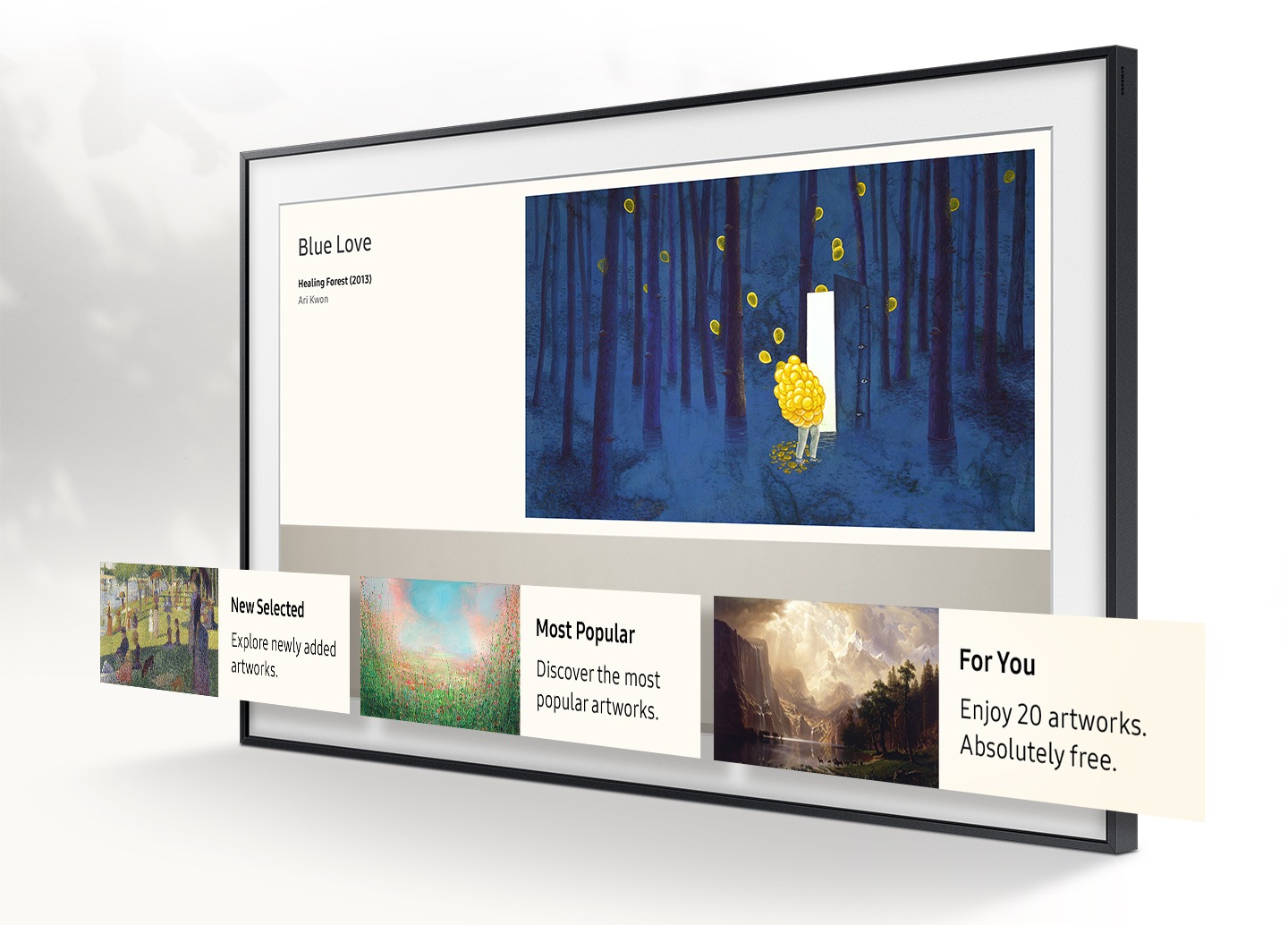 * Actual user experience may vary.
Collect your favourites
Favourites
Create your own personalised gallery using favourite art pieces in your living room. Select and mark the pieces you like as favourites and see them all in one place.
* The images are for illustrative purposes only and are intended to provide better understanding.
Frame your most-loved moments
My Collection
You can easily upload and exhibit your own photography—or a new family portrait. Simply send your photos to The Frame via your phone or a USB flash drive.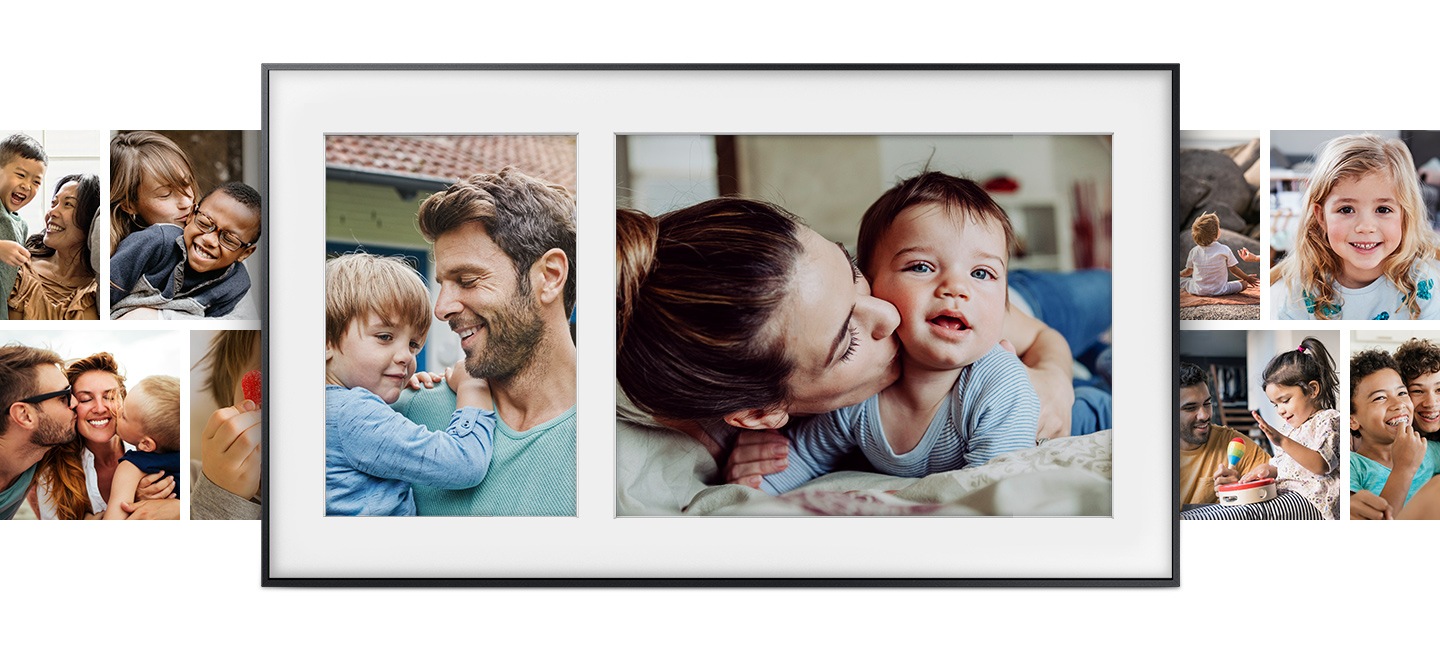 * Personal photos uploaded to The Frame will be displayed at the original resolution. Displaying 4K(3840*2160 pixels) and above images is recommended. * Compatible devices only.
Elevate your photos to new artistic heights
Filters
Transform your photos into masterpieces. Choose from six aesthetic filters that give your photos unique new flair.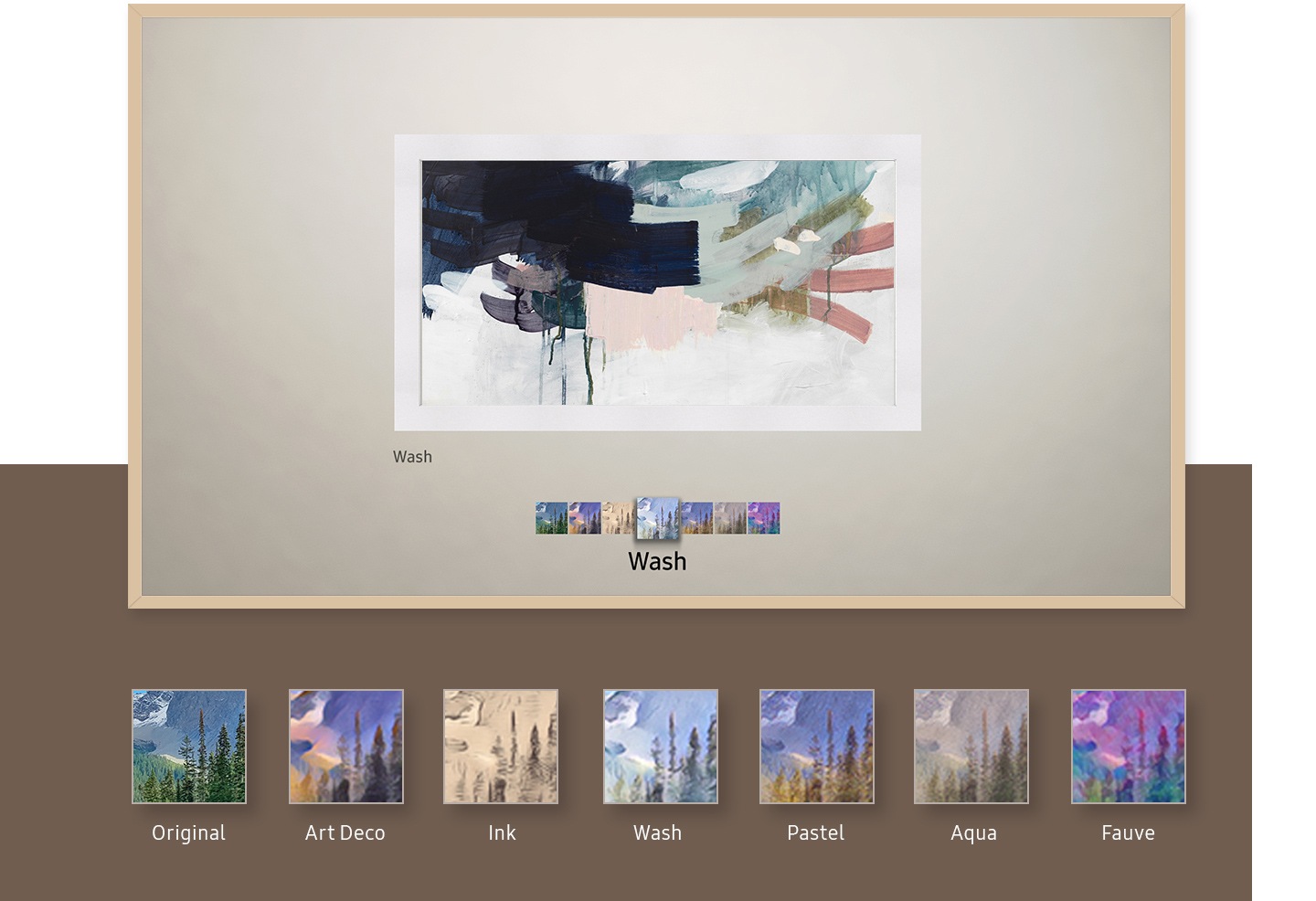 * Actual user experience may vary.* On-screen portrait : "Following the Pack" – by Jennifer Daily from Minted.
Your art, your way
Matte Options
Now there are more ways to customise The Frame. With Art Mode, you get 7 different types of layout styles and a palette of 10 different colours to choose from. Set up the gallery to suit your mood, making your artwork and photographs look great.
The ideal way to appreciate art all day long
Brightness Sensor
By detecting the ambient light, the Brightness Sensor automatically balances the screen's brightness and colour tone to perfectly match a traditional art piece.*
*Performance may vary depending on the ambient brightness level.
Discover just how smart a TV can be
Smart TV Powered by TIZEN
With the best-selling Samsung Smart TV* at your fingertips, it's never been easier to enjoy TV. Set it up in no time with your smartphone. Then you're only a few clicks away from all your must-see entertainment. Disney+**, NOW TV, BT Sport – dive into a huge collection of content and catch-up TV apps.***
*Samsung TV has been the No.1 selling TV Brand for 13 consecutive years by IHS Markit.**© 2020 Disney and its related entities. ***3rd party content providers may remove apps from the Smart TV platform or stop updating them at any time. Subscriptions required.
Mirror it all on the big screen
Mobile Mirroring
Go from watching your favourite show on your mobile device to watching on The Frame. It uses SmartThings to mirror content.
SmartThings
Start a movie on your smartphone during your commute and easily switch to your Samsung TV when you get home. Whether Android or iOS, the SmartThing's app makes it easy to connect and enjoy.
* Each device must be connected to Wi-Fi or other wireless network.* Must download and install the SmartThings app.* For interoperability through SmartThings, all the devices should be registered with a single Samsung Account.
Just tap to mirror
Tap View
Mirroring movies or music from your smartphone to The Frame is as simple as a tap. When you tap The Frame with your smartphone, The Frame senses the tap and mirrors automatically. So it's quick and easy to switch to The Frame and continue enjoying your favourite content.
* Compatible devices only.* This service only works when TV and mobile are on.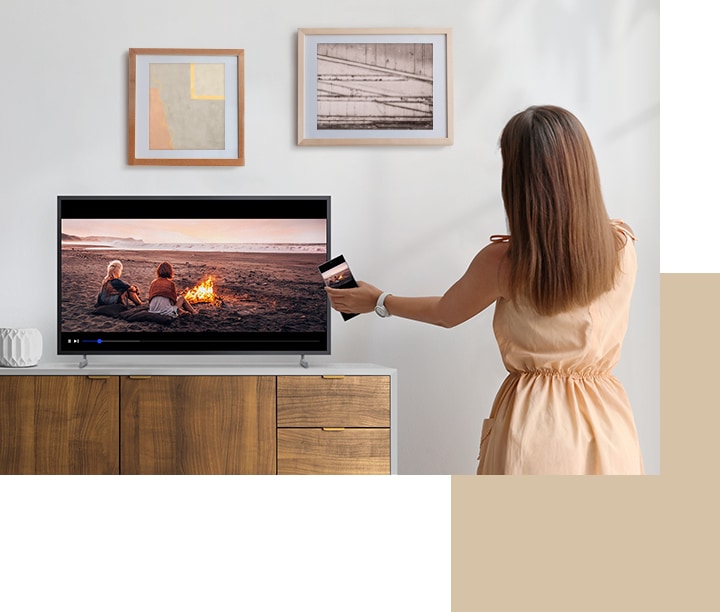 Choose your favourite voice assistant
Multiple Voice Assistants

Bixby
You can even talk to The Frame. The Bixby voice assistant can go beyond just controlling The Frame. Just ask and get more.
Amazon Alexa
Control your TV with your voice. Just ask Alexa to change the channel, search for movies, play your favorite music, show the front door, and more.
* Amazon, Alexa, and all related logos are trademarks of Amazon.com, Inc. or its affiliates.

Google Assistant
Easily find and enjoy your favorite photos, quickly access entertainment and ask questions. Dim the lights and control smart home devices. Just press the mic button on your remote to get started.
*Service not yet available, coming in June 2020. Google and related marks and logos are trademarks of Google LLC.
Simple and intuitive control
One Remote Control / SmartThings App
The Frame makes your digital life a breeze. Forget fumbling for the right control, with One universal Remote Control linking to your every device. The SmartThings App let you effortlessly access and control your connected devices.
*Actual user experience may vary.
Your new home office
Remote Access
Get office work done on your TV at home. Remote Access lets you mirror your computer's display on the TV screen wirelessly. You can even tap into your office PC to access files or work on documents using Microsoft Office 365—all from the comfort of your sofa.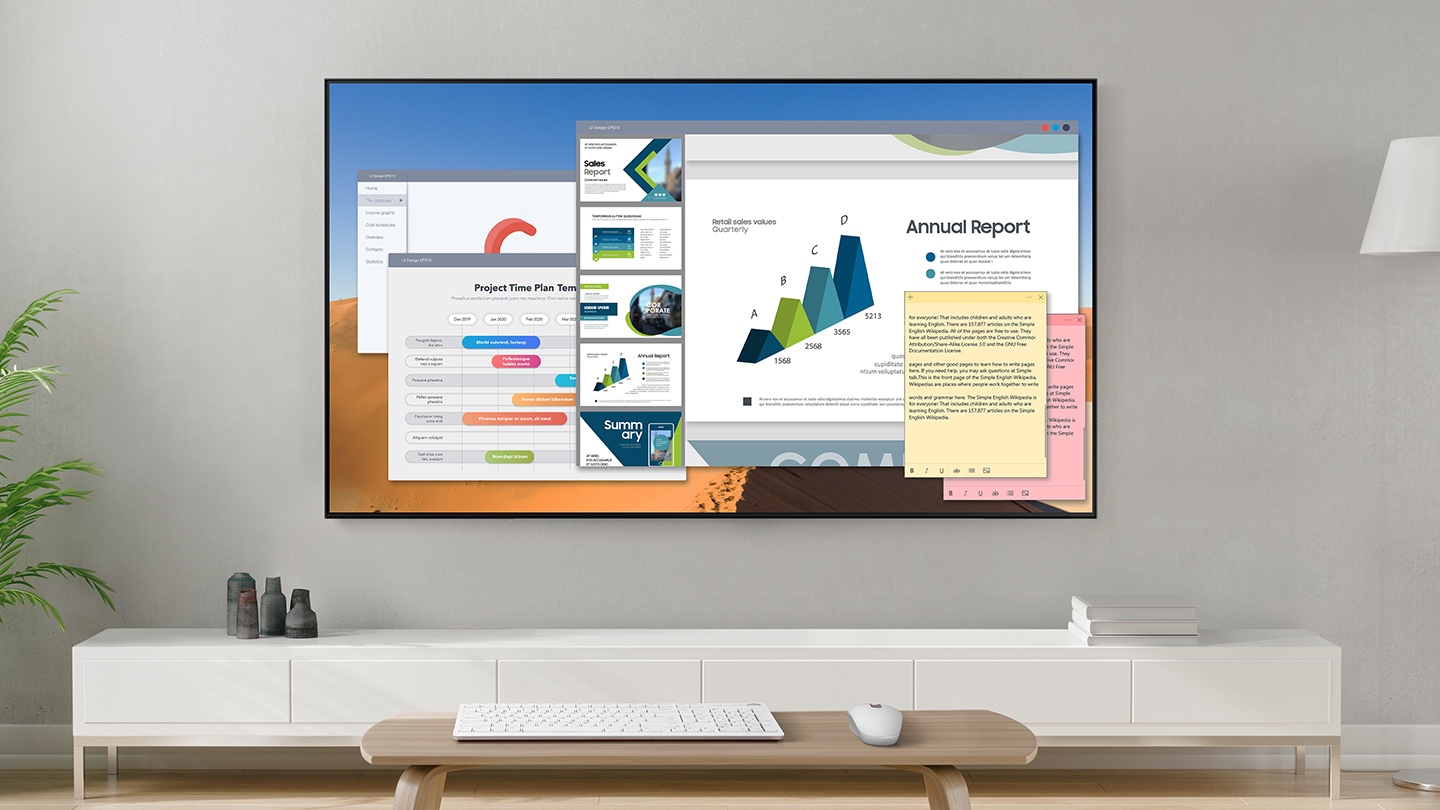 * TV and computer must be connected to a network.* Screen sharing(mirroring) is only supported for Windows 10.* Remote connection to a PC running on Windows is only supported for Windows 7 or later. And the operation system must be a Professional or higher edition.* Remote connection to a PC running on Mac is only supported for Mac OS X 10.5 or later. * PC accessories such as mouse and keyboard are sold separately.* This service requires setting to allow remote connections within a PC.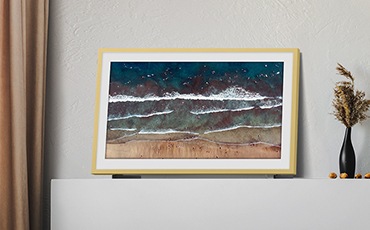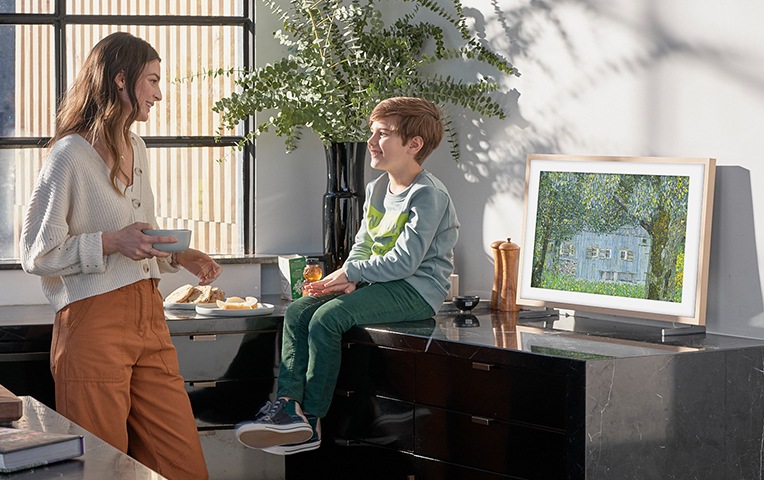 * Actual Product may differ from image shown. Please see our product gallery.* The screen is on a stand and tilted back at a slight angle. This angle is not adjustable.